Work From Home Opportunity
By Personal Touch Products, Inc.
Work from Home:
One desire so many people have today, is to work from home. Personal Touch Products offers you a truly simple, low cost work from home business opportunity that will allow you to work from home or a retail location, while providing you with the flexibility to start out small and grow your business when ever you're ready. We're talking about a rewarding business that does not require a large investment or any expensive equipment. Simply utilizing your existing computer and our proprietary personalized gift software and supplies, you'll be able to create a host of thoughtful personalized gifts for every possible occasion. And a typical gift takes just a couple of minutes to create! If your desire is to work from home, and owning a personally rewarding business sounds interesting, we encourage you to explore our opportunity further to see for yourself if the Personal Touch work from home business opportunity meets your requirements. Who knows, we may just exceed all of your expectations...
Find out more...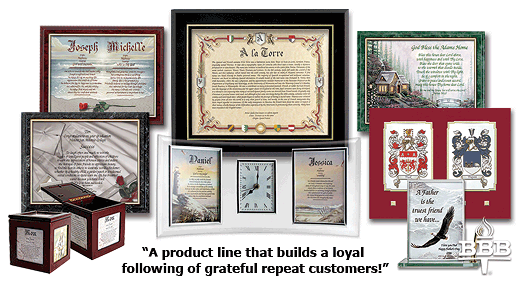 Home-Based Business:
Home-Based Business:
The Personal Touch home-based business opportunity is designed to get started and into profit as lighting fast. In fact, you can be up and running in about a week. You can begin part time working from home or only on the weekends if you choose. You can expand into a variety of different retail venues such as flea markests, craft fairs, malls, farmers markets, home parties, retail stores, etc. Open a Personal Touch webstore in a matter of minutes and begin selling your products on-line.
Personal Touch offers you the opportunity to own one of the most flexible home-based businesses around. Work when you want, part-time or full-time. We encourage you to do your research and objectively look at what other home-based businesses have to offer you. When you compare our product appeal, flexibility, comprehensive start up package, start-up price, and our unheard of return-on-investment, I believe you too will decide that the Personal Touch personalized gift, home-based business opportunity is in a league all its own.
Visit our Business Opportunity page for more detailed information: