ABOUT US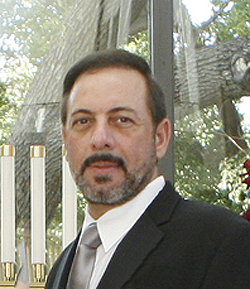 Join us as we reach out to the world with our encouraging words and thoughtful personalized gifts!
We are premier wholesale providers of personalized gift software and specialty supplies designed to create beautiful personalized gifts that will be treasured forever.
Celebrating our 32nd Year in business, we extend our sincere appreciation to each and every one of our valued customers.
To your ultimate success!
John Trapani
Our Purpose:
"To consistently exceed our customers' expectations by providing them with an unparalleled level of service and support, along with the highest quality and greatest value personalized gift software and supplies available in the marketplace."
Our Mission:
"To provide our customers with our unique combination of software and supplies that will allow them to meet the vast demand for thoughtful personalized gifts. In doing so, our ultimate intention is to impact our world, one person at a time, with our uplifting and inspirational personalized gifts that will be displayed in homes and businesses throughout the world."
Our Commitment:
"Personal Touch Products does not market its personalized gift software or wholesale supplies to the end consumer (your potential customers). We believe that offering gift industry-specific software and supplies direct to the general public at wholesale prices devalues the personalized gift marketplace. As such, we offer our products wholesale to authorized personalized gift retailers, as well as those interested in becoming one."
Verify our untarnished BBB rating:
Committed Family Friendly Site:
Privacy, Security & Returns Policy Statement
Postal address:
Personal Touch Products LLC
5779 N Rosa Springs Ave
Meridian, ID 83646

We can be reached via e-mail at info (@) personaltouchproducts.com
or you can reach us by telephone at 909 596-1166

For each visitor to our web page, our web server automatically recognizes the consumer`s domain and e-mail address (where possible).
Privacy
The information we collect is used to improve the content of our web page, used to customize the content and/or layout of our page for each individual visitor and is not shared with other organizations for commercial purposes.
With respect to cookies: We will generate cookies that enable automatic login for subsequent visits to our website only if requested by the visitor.
You will not receive e-mail from us unless requested by you or for communication regarding registration or orders that you placed on our website. You can discontinue further e-mail contact by sending us an e-mail at remove (@) personaltouchproducts.com or writing to the above address.
Individuals who supply us with their telephone numbers on-line will only receive telephone contact from us with information regarding orders they have placed on-line or with information that was specifically requested. If you do not wish to receive such telephone calls, please let us know by e-mail or writing to the above address.
With respect to Ad Servers: We do not partner with or have special relationships with any ad server companies. We do not sell, rent, share, or transfer your personal information to third parties. We consider your information confidential and will never be sold or given to any individual, company, or organization. Upon request, we provide our site visitors with access to their own information such as transaction information that we maintain e.g., dates on which customers made purchases, amounts, and types of purchases, as well as a description of the information that we maintain about them. Consumers can request this information by writing to us at the mailing address below.
Safe Software
When you install any software product you are placing trust in that software publisher. We highly value that trust and want to ensure you that our software is absolutely safe.
Personal Touch Products Software is 100% free of adware, spyware, and viruses.
Legal Disclaimer
We may disclose personal information when required by law or in the good-faith belief that such action is necessary in order to conform to the edicts of the law or to comply with a legal process served on our website.
Security
When you submit sensitive information (such as a credit card number), that information is encrypted and is protected with the best encryption software in the industry (Secure Socket Layer). While on a secure page, such as our check-out page, the lock icon on the bottom of your web browser becomes locked, as opposed to un-locked, or open, when you are just `surfing.` Our website does not store your credit card number so you will need to enter your payment details each time that you place an order.
Shipping Policy
Most orders are shipped via FedEx Ground from Southern California within one business day of placing your order. Faster shipping services are available upon request.
Returns Policy
Personal Touch Products will accept the return of defective products for replacement or refund. Notification of defective merchandise must be made within 7 days after receipt of shipment.
Claim Procedure:
Retain original packaging for a minimum of two weeks after filing a claim to permit inspection and or pick-up the package by the shipper.

Provide Personal Touch Products with the following information within 7 days of receipt of shipment:
PT Invoice number or order date.
PT Item Name/Number.
The number of damages.
A brief description of the damage. (i.e. broken glass)
Opened and or installed software may not be returned.
Returns for any reason other than items damaged in shipment must be approved and are subject to a 35% restocking fee, shipping and handling fees, and payment processing fees.
Order changes submitted after an order is processed are subject to a 35% restocking fee.
If you have any questions about these policies, the practices of this site, or your dealings with our website, please contact us at:
Intellectual Property and Copyright Notice
This website including all of its contents, web-copy, writings, images, art backgrounds, photo's, videos and software, herein referred to as intellectual property, are the exclusive property of Personal Touch Products LLC, and protected by law including the United States and international copyright laws. You may not for any reason copy or extract the intellectual property from this website other than as specifically permitted by agreement or license.
CONTACT INFORMATION


Mail:
Phone:
Email:






Personal Touch Products LLC, Meridian, ID 83646
(909) 596-1166
info (at) personaltouchproducts com
Save
Save