PERSONALIZED GIFT SOFTWARE
By Personal Touch Products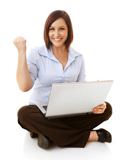 Personal Touch Software is the most user-friendly, fully integrated and advanced personalized gift software available!
Quickly and easily create beautiful personalized gifts that your customers, friends and family will absolutely love and that are just right for any and every occasion. Designed with both simplicity and flexibility in mind, Personal Touch's software offers unparalleled value in that it combines the five most popular personalized gift software features into one unique program, including:
First Name Meanings
Personalized Poetry
Popular Bible Verses
Famous Quotations
Family Tree Gifts
As a bonus, you can easily create Spanish gifts too!
Create the most popular personalized gifts with our easy to use software and your computer
No special skills, tools or time-consuming processes are required. Assuming you already have a computer and laser printer, all it takes to get started is for you to order the start-up package of your choosing.
Here's how it works:
Your customer selects their favorite art background and the personalized message that is appropriate for their occasion. Customers can even provide you with a photograph that can easily be integrated into their gift. This adds the ultimate "personal touch" for wedding gifts, graduation gifts, etc

Using Personal Touch software, you get to work designing the gift right in front of your customer, allowing them to look on in anticipation and approve the finished product before it is completed thanks to our amazing gift preview feature

You can also offer your customer the option of framing or matting their gift or choosing from an assortment of other exciting personalized gift products, including jewelry boxes, mouse pads, desk accessories and many more. You simply insert the personalized art print into any of the specialty products

Your customer walks away extremely satisfied and assured that he or she has found the perfect gift for that special someone!

You enjoy the financial rewards as well as your own sense of accomplishment in a job well done!
It really is just that quick and easy!
See for yourself what Personal Touch Gifts on Art Software can do!
With Personal Touch Personalized Gift Software, you can be confident that you'll have all the tools you'll need to create high-quality keepsakes that you can be proud of and that will be treasured. And as an added benefit, you can save quite a bit of money on your own gift giving because your family and friends are no exception when we say:
Personal Touch Gifts are the right gift at the right price at the right time - Every Time!
Order your free gift today and see for yourself what Personal Touch Personalized Gift Software can do!