PART TIME BUSINESS IDEAS
Extra Income or Full Time Opportunity
Realistically Earn Profits of 300% to 4000%
This is an ideal part time business idea for Mom's, Dad's, Student's, Churches, Crafter's, Flea Market Seller's, and Retailer's of every kind. And for those of you that have never owned a successful business before, or if you find yourself concerned about the viability of this type of business, you will be glad to learn that "personalized gifts" are one of the most profitable in-demand product lines. And the Personal Touch product-line appeals to thoughtful people who purchase thoughtful gifts for all of the special people in their lives. With all of the holidays throughout the year, and all of the special occasions that each of us celebrate such as new babies, weddings, birthdays, showers, graduation, etc, the demand never ends.
The Personal Touch process is super simple, lightning fast, and perhaps best of all, is very profitable. Earn a substantial extra income from home or retail locations such as flea markets, craft fairs, home parties, plus many other marketing opportunities. Create awesome personalized gifts that your customers will thank you for over and over again. A business that will allow you to enjoy what you do and earn super high profits at the same time. As one profit example, you can create a typical first meaning name gift that cost 50 cents, and can easily be sold for $9.95.

It honestly takes just a couple of minutes to complete from start to finish. Perhaps best of all, your customers will be extremely appreciative of the gifts you create for them, and frequently become repeat customers. Please do not assume that our low-cost supplies are in any way an indication of low-quality. Nothing could be further from the truth. In fact you will be proud to offer these high quality personalized gifts to your customers and loved ones for every possible occasion.
Get Started Today or Request a Free Gift To See for Yourself!
You can be confident that you will have the very best personalized gift software and supplies available in the marketplace. And you will have everything you need to begin creating high quality keepsakes that you will be proud to offer your customers, friends and family too!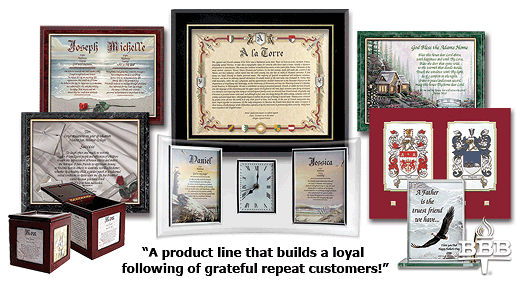 Everything you need to be successful:
You will need a computer and printer, but Personal Touch Products will provide you with everything else you'll need to begin creating high quality personalized gifts that are in-demand year round and incredibly profitable too. We are members of the On-line Better Business Bureau with an untarnished A+ rating, and we strive to assist individuals just like you earn money with your own personalized gift business. Keep in mind that you have choices: You can run your business part time if you prefer. You can begin by creating gifts for friends and family, or perhaps host your own home parties during the busy holiday seasons. You can open a www.thepersonalizedgift.com web-store in a matter of minutes. If and when you ready, you can take your business to the next level by renting a booth at local flea markets or craft fairs on the weekends. As an added bonus you can also expect to save quite a bit of money on your own gift giving by creating beautiful gifts for every possible occasion! You owe it to yourself to find out more.
Feel free to call, chat or email us with your questions.
To your ultimate success!
John Trapani