HOME PARTY IDEAS
By Personal Touch Products
The Perfect Home Party Products
Have you ever hosted a home party? For those of you open to the idea, home parties offer you a great way to connect with friends, family, neighbors and co-workers. And of course provide you with a simple way to earn some great profits. You can even have other's host parties for you in return for free gifts they will greatly appreciate. With Personal Touch personalized gifts, y
ou will offer exactly what thoughtful gift buyers are looking for! Personalized gifts that are both cost effective and appreciated by everyone!


Create the most sought after personalized gifts, literally in one or two minutes as your friends, family and customers watch with eager anticipation! Look up the meaning of thier first names for free on your computer, and offer to print thier name on their favorite art background. Then you create their awesome keepsake as they watch in fasination! There is nothing else that compares...
It's truly this simple...
Using Personal Touch Gifts on Art software: Press the "Create New Gift" tool which allows you to select the customer's art background from a listbox.

Press one or more of the left side tools to create the desired gift: Insert a Poem, Insert a Name, Insert a Quote, Insert a Verse, Insert a Textbox or Insert a Photo.

Insert your customers chosen art background into your printer and Press Print! That's all it takes for the excitement to get started! then, curiousity and excitement take over. to see everyone elses personalized gift that you just created for them! It
Create appropirate gifts for everyone! Men, women and kids too! The following screen-prints will give you a good idea of the type of gifts you can create using Personal Touch Software.

Single First Name Meaning Gift:
Note: this gift includes the customers first and middle name with meaning and origin for both.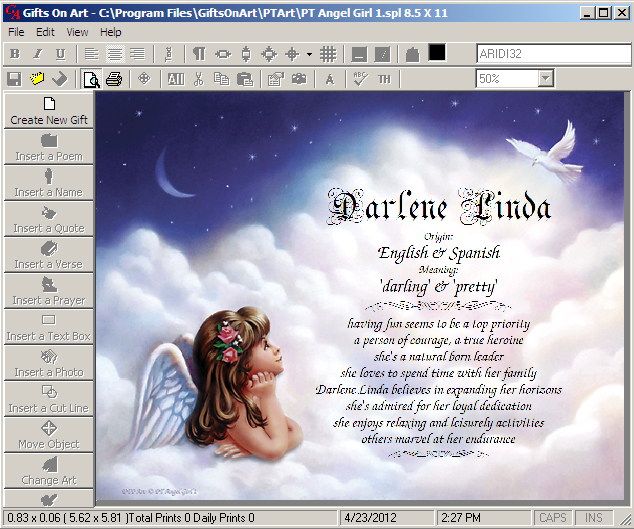 Double First Name Meaning Gift:
This is a very popular gift for couples of all ages and every occasion that celebrates love. Wedding gifts, anniversary gifts, valentines day, birthdays and just because.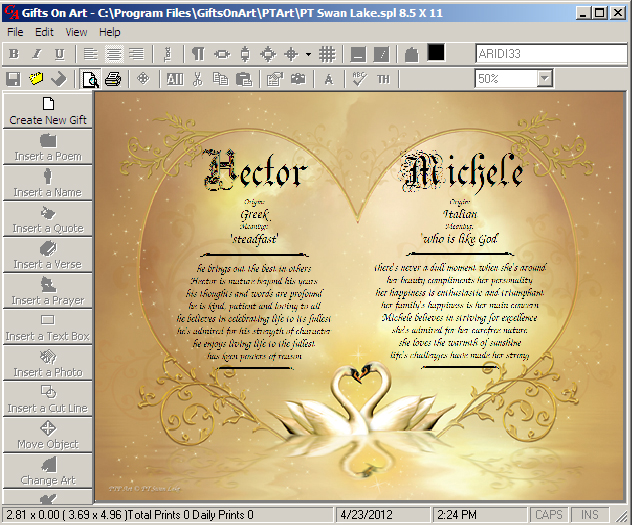 The following is a unique family gift:
This gift combines a Poem in the center, a Textbox top center, and First Names with meaning and origin surrounding the poem. You can fit as many names as will fit on the 8.5x11 art.

You could charge a base price for this gift such as $10 (the cost of a poetry gift), plus $2 to $3 per first name. e.g. $10 + 9 names x $2 = $29 just for the personalized art print that cost you 45-75 cents each.

This same type of gift can be created using any of the PT art backgrounds, providing you with unmatched creative flexibility.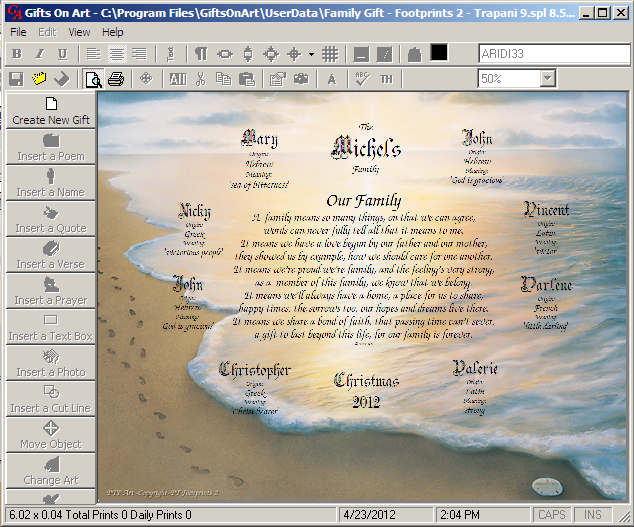 Here is a Family Tree sample:
This is a free form gift allowing you to type whatever you like in addition to the names and DOB, you can add quotes, verses or proverbs as shown at the bottom.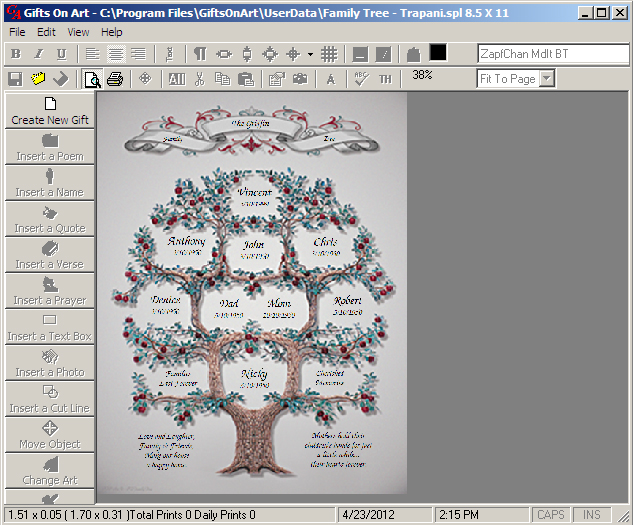 A Nice Family or Home Gift:
You can optionally insert each of the family member's first names along the stone walkway.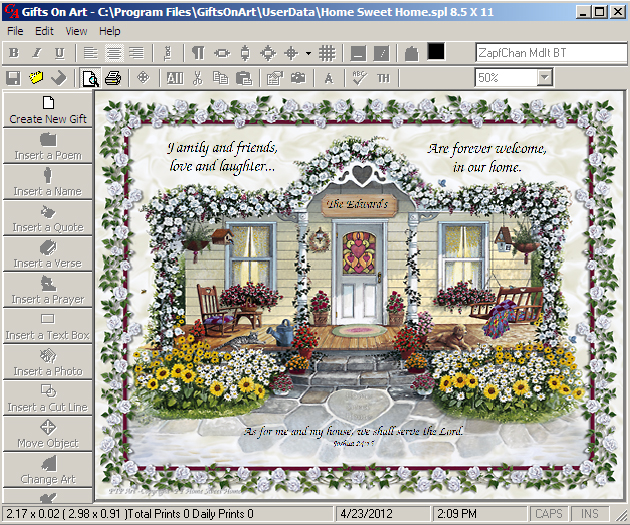 Baseball or Softball Team Gift.
This gift is another example of the truly unique gifts that you can create for your customers. This is a premium gift and generally sold in multiples. :-)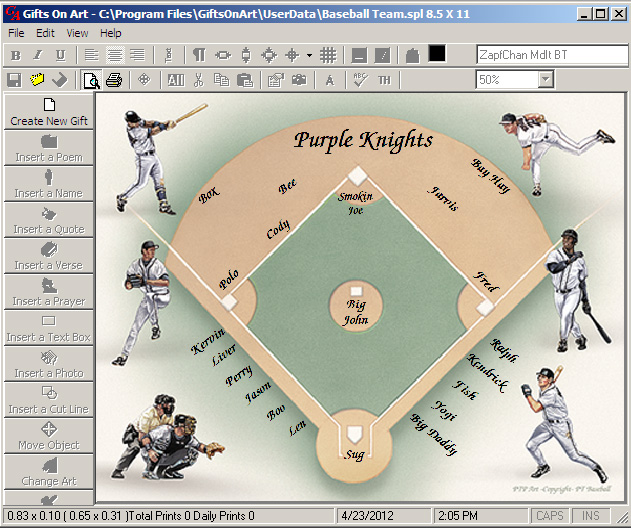 Graduation Gift:
Includes a poem, first name meaning and a famous quotation.

This literally took two minutes to create and you can save it as a template so you can create the same gift for other customers in less than one minute.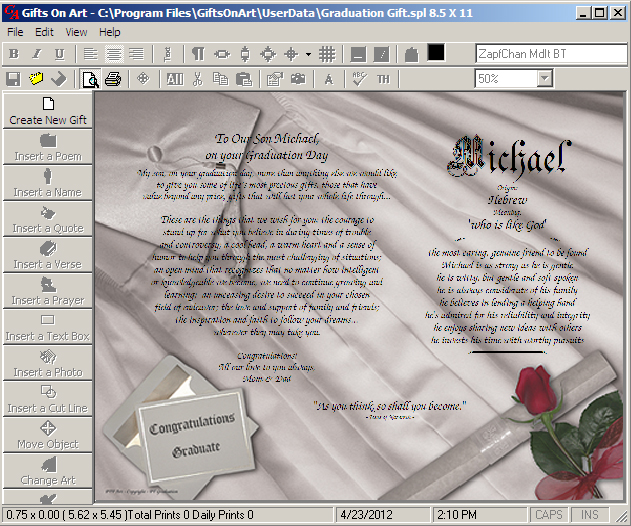 Anniversary Gift:
Includes a poem, the first name meanings for the couple, and popular bible verse.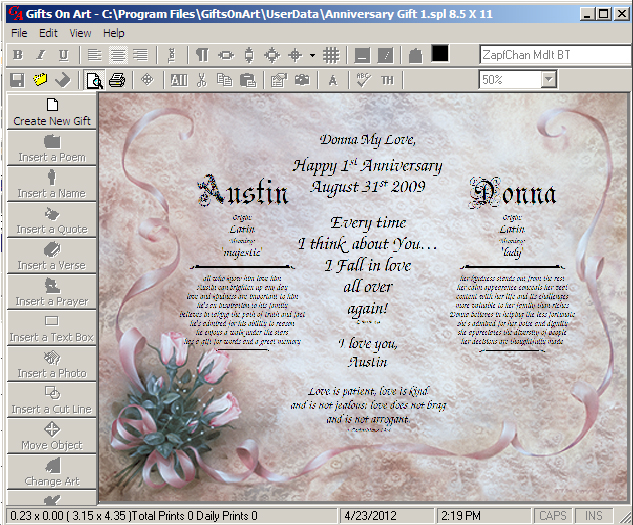 Find out more, request a sample gift or get started today.