Home-based, Web or Retail
By Personal Touch Products
Enjoy the flexibility of working on the weekends, during the holidays or year round. Earn an extra income or full time, the choice is yours. Enjoy profit margins from 300% to 5000% creating personalized gifts your customers will love!
The Personal Touch Opportunity:
You'll have the flexibility to create gifts for fun or for profit. The Personal Touch personalized gift concept was designed with simplicity and flexibility in mind. The ideal opportunity for Moms & Dads, students, crafters, flea market sellers, and retailers of every shape and size seeking to earn an extra income. This is also a great concept for fundraising organizations such as schools, churches and other non-profits.
For those of you who have never owned a business before, or who may be concerned about the viability of this opportunity, there's one thing you can bank on... the "personalized gift" marketplace enjoys an ever growing following of thoughtful customers looking to purchase something special and personal for the people that they care about. And that is precisely what Personal Touch Gifts are all about.
The Personal Touch product line was designed from the start to provide our customers with the ability to create appropriate gifts for every demographic. Male, female, young, old and everyone in between. You'll have everything you need to create truly unique, high-quality and very affordable gifts for the everyone and just about every occasion you can think of. Create beautiful gifts for new babies, weddings, anniversaries, birthdays, baby and bridal showers, graduations, you name it! Using yourself as an example, take a moment to think about all of occasions that you purchase gifts for throughout the year. Birthdays, weddings, graduations, mother's day, father's day, graduation, weddings and anniversaries, thank you gifts, inspirational gifts... and the list goes on. It's for those very same occasions as well as so many others that your customers will return to purchase that perfect gift from you again and again. Can you envision the potential? :)
You'll be glad to know that it's easy to get started and the Personal Touch process is super simple, takes very little time, and is very profitable. As one example, you can create a typical
first name meaning gift
that costs you 50 cents and can easily sell it for $10-$15. And a typical
family tree gift
that costs you 50 cents can be sold for more than $20.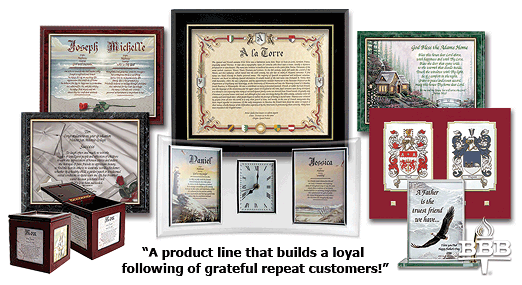 Learn more about how you can get started and be up and running in as little as one week:
Easy, affordable, portable and flexible... Anyone can do this!
All you need is a computer and printer. Personal Touch will provide you with everything else you need to begin earning money creating personalized gifts for your friends, family and customers, in as little as a few days. Our one-of-a-kind Gifts on Art software is the most comprehensive, flexible and user-friendly software of its kind. So easy even a child can do it! Incomparable personalized gift software, flexiblity, unmatched quality, and exlusive supplies are what set Personal Touch apart.
Perhaps most important is the flexibility to operate your business however you like.
As a Personal Touch Products customer you can:
Work part-time or full-time and set your own hours

Count on us to be with you every step of the way as you set up and run your business

Create gifts from home or in any other venue; everything is completely portable and easy to learn and operate

Save a significant amount of money on your own gift giving

Open an on-line Personal Touch web-store in a matter of minutes

Take comfort knowing you're working with an A+ rated company with a long-standing and untarnished reputation of more than two decades

Start of small, grow your business any way you see fit and completely at your own pace

Let us show you how!