FIRST NAME MEANING SOFTWARE
By Personal Touch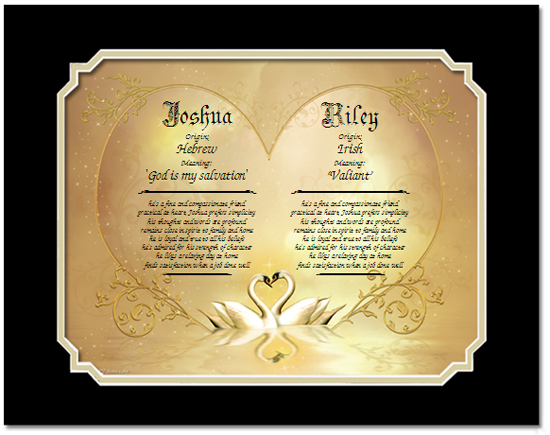 It's all about creating beautiful first name meaning gifts for every name in the world!
User-Friendly First Name Meaning Software
Personal Touch Gifts on Art software is the most feature-rich, flexible and easy-to-use personalization software.
It's All About Names. Here's why:
Loaded with features and special tools that allow you to create the most popular first name-meaning gifts in a matter of minutes.

Using our massive 250,000+ first names database and a special unique-name feature, you can create personalized gifts for virtually every name in the world!

Spanish first name gifts are produced easily with just the click of a button, an essential feature in today's marketplace; and you do not need to speak Spanish to use it

Our smart software remembers the perfect location to position text and provides complete flexibility that allows you to customize text any way you like, including font, size, color, position, etc

One-of-a-kind preview mode allows you and your customer to view the gift as you select each of their options and personalize it for them, as they look on in eager fascination

The variety and type of specialized gifts you can make are limited only by your imagination. First name meanings combined with an unparalleled collection of high-quality art backgrounds, poems, famous quotations and bible verses. The result? An impressive finished product that will exceed your customer's expectations every time

Quickly and easily add your customers' photographs to produce the ultimate and most personal gift

Template feature allows you to save sample gifts so they can be recreated for future customers in a matter of seconds

Our software is so user-friendly that you will be creating your first gift within minutes of installing it.
See for yourself what Gifts on Art Software can do!
Personal Touch Products offers a highly profitable, incredibly rewarding and extremely simple personalized gift business opportunity. This is your chance to do something you will enjoy, put money in your pocket and a smile on your customers' faces. After all, Personal Touch Gifts are the right gift at the right price at the right time - Every Time!
All it takes to get started is your own computer, a laser printer and the start-up package of your choosing, and you'll be on your way to owning and operating your very own home-based business in as little as a week.
Let us show you how!
Save