COAT OF ARMS Start-up Kit. Coat of Arms Software (on USB) 120,000 Last Name Histories 70,000 Coat of Arms 200 Country Coat of Arms Family Heritage Keepsakes 100 Heraldry Art Backgrounds 100 Protective Clear Art Bags Documentation Pack $2000 Gift Retail Value at MSRP
Rating:

90

/

100

based on

2

review(s)
Price:

$259.00

- In stock
Details
Coat of Arms Start-up Kit:
Create a large variety of family keepsakes with Personal Touch Coat of Arms Software.
For Windows: 7, 8, 10, & 11
Coat of Arms Gifts
Double Coat of Arms Gifts
Last Name History Gifts
Combined Coat of Arms and Last Name History Gifts
Family Heritage Gifts based on your customer's country of origin.
Database Features:
120,000+ Last Name Histories
70,000+ Coat of Arms
200+ Authentic Country Coat of Arms (create COA's gifts for every customer)
200+ Family Heritage Keepsakes (create heritage keepsakes for every customer)
Create Last Name Keepsakes with our simple 5 step process.
It takes less than two minutes to create high quality family heirlooms that your customers will cherish forever.
Select the gift type

Search for your customers last-name or country of origin

Select the art background & size

Insert the PT Art Background into your printer

Press Print
Program Features:
Designed for Windows 7, 8, 10, & 11
Exclusive Coat of Arms graphics database. Premium graphics illustrated based on historical family Coat of Arms and Crests. Vector file format for the highest quality printing available.
Each Coat of Arms graphic includes a Shield, Crest, and color coordinated Mantle.
Each Coat of Arms graphic incorporates an eye catching 3D drop-shadow.
Create Single COA gifts or Double COA gifts intended to pay tribute to both sides of the family that include the two family COA graphics printed side by side.
Create a COA and SOA Combined. Create a keepsake with a Coat of Arms graphic and Last Name History on same printout.
Create a Combined Family Heritage Keepsake that includes a Coat of Arms graphic and a unique family heritage write-up based on the family name country of origin.
Create smaller COA gifts with preset sizes: 2x3, 4x6, 5x7, 8x10, 8.5x11.
Drag and drop and resize COA graphics as desired.
Edit surname text and save if desired.
Documentation Included:
Printable: Surname History List of Names (create a book for customer look-up)
Printable: Surname History Cover Page (book cover page)
Printable: Sign - 8.5x11
Printable: Heraldic Terminology (alphabetic list of heraldry terms and definition)
Supplies Included:
Coat of Arms Software (on USB)
50 Heraldry 2 art backgrounds
25 Old Parchment art backgrounds
25 Parchment art backgrounds
100 Clear Art Bags
** $2,000 Inventory Value at MSRP **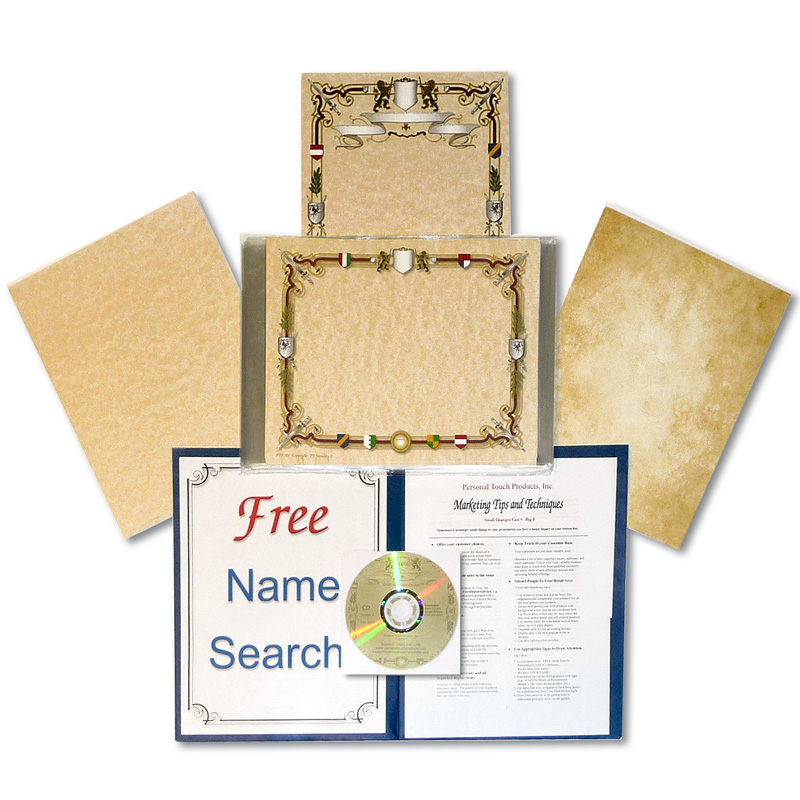 Unsolicited Testimonial
"Hi John, just a note about the COA update. My husband, son Scott and I did a one day street apple festival Saturday, first time I showed the combo gift. Close to 50% of the persons who looked at it bought for $12.00 printed on your parchment cardstock. Cut into my $20 mat sales. But was so quick and easy, we did not care. Day ended up at $1315.00 for 10AM to 4PM. The booth was jammed all the time. I tried to get them out the back onto the sidewalk with not much luck. Lost some business because they would not wait. We have another one this Saturday, it will be much smaller I think. Sally"
Computer Requirements:
Compatible with Microsoft Windows 7, 8, 10, & 11
Mac users can run Windows applications using 3rd party software called "Parallels Desktop for Windows."
Printer Requirements:
A color printer is required to print the Coat of Arms graphics.
The printer should be capable of printing on 65lb card stock.
We generally prefer laser printers but inkjet printers can work well also.
We recommend testing your existing printer before making a new printer purchase.
If you decide to purchase a new printer, select one that is designed to print on our thicker paper which is equivalent to 65lb cardstock or 100lb bond paper (the approximate thickness of a thin business card).
Find out more: COA Software Information Page
Customer Reviews
Update from our show. Review by Sally

Hi John, just a note about the COA update. My husband, son Scott and I did a one day street apple festival Saturday, first time I showed the combo gift. Close to 50% of the persons who looked at it bought for $12.00 printed on your parchment cardstock. Cut into my $20 mat sales. But was so quick and easy, we did not care. Day ended up at $1315.00 for 10AM to 4PM. The booth was jammed all the time. I tried to get them out the back onto the sidewalk with not much luck. Lost some business because they would not wait. We have another one this Saturday, it will be much smaller I think. Sally
(Posted on 8/5/15)

nice product Review by dan

nice product
(Posted on 3/2/15)
Write Your Own Review