TOP SELLING FLEA MARKET ITEMS
By Personal Touch Products
Best Selling Personalized Flea Market Items:
The ability to create beautiful personalized gifts that cost you pennies and take less then two minutes to create are two primary reasons why Personal Touch Personalized Gifts are consistently among the Best Selling Flea Market Items across the United States. Personal Touch personalized gifts can help you carve out an entire market of repeat customers at your local flea market. Let's face it, people love to shop at flea markets because it offers them great value and the possibility of finding unique things they can't find anywhere else. And that is precisely what you'll be able to provide your customers when you become a Personal Touch Products dealer.
Ideal items to sell at your local flea mMarket:
There are many types of personalized gifts you can create for your customers such as first name meanings and last name histories printed on beautiful art backgrounds. Your customers will be so excited to see the meaning of their name and then select the art background of their choice, and watch you create their gift in less than two minutes as they look on. People buy these gifts not only for themselves, but just as often for their family friends, and co-workers. You will have every thing you need to create the best selling flea market items, offering something appropriate and interesting for everyone. And because the gifts are personalized, they often become treasured keepsakes, they remain on display in homes for all to see, which often leads to repeat business for you.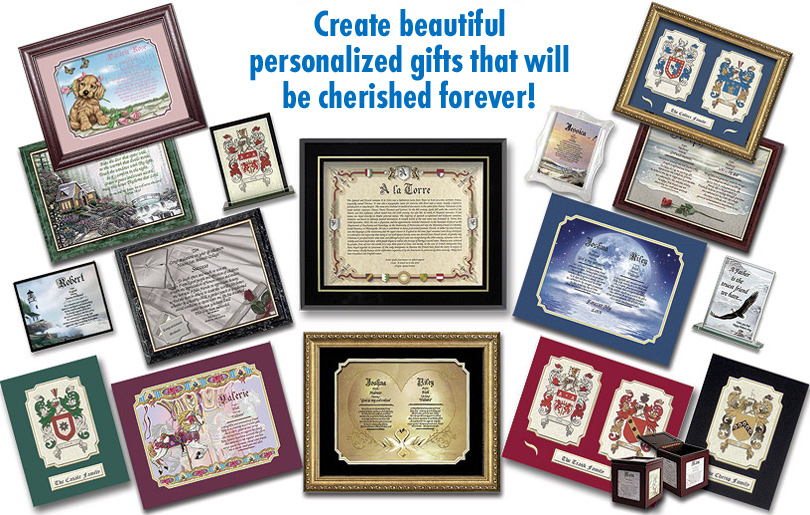 Imagine having the ability to quickly and easily create
the hottest selling flea market items
for your customers. It is not a stretch to suggest that you should expect to enjoy providing these unique and thoughtful gifts that your customers will greatly appreciate. If you're looking for the best flea market items to sell, I think you'll agree that a high mark-up is essential to your success. Without any exageration, selling Personal Touch personalized gifts offers you unbelievable mark-ups from 300% to 4000%+. Two typical examples include the following.
First Name Meaning Gift (unframed) - your cost is 50 cents; your selling price will be $6.95 - $12.95

A Family Tree Gift (unframed) - your cost is 50 cents; your selling price will be $15.95 - $25.95 (depending on the number of family members)
As you can see, the profit potential is phenomenal. You can generate a nice stream of income without the hard-sell. No expensive equipment to purchase and no royalties be concerned with. A typical gift takes approximately two minutes of your time using your computer. As a Personal Touch dealer, you will receive the most advanced and easiest to use personalized gift software available. Supplies are of the highest quality and the client support is unparalleled in the flea market merchandise marketplace.
If you have been looking for the
ideal flea market item
you need look no further. Personal Touch gifts have year round appeal and offer your customers something appropriate for every occasion. With low start up costs including far more than enough inventory to earn back your investment, the value and income potential are simply outstanding.