SILVER Start-up Kit. Gifts on Art Software 400+ Personalize-able Poems 250,000+ First Name Meanings 700+ Popular Bible Verses 700+ Famous Quotations 30+ Prayers Family Tree & Unique Family Gifts 1 PT Poetry Book (sales tool) 200 Art Backgrounds 200 Clear Art Bags - 8.5x11 ** $2,000 Inventory Retail Value **
Rating:

100

/

100

based on

3

review(s)
Price:

$349.00

- In stock
Details
Silver Kit:
Gifts on Art Software (License to maintain on 2 computers)
200+ Personalize-able Poems (English)
200+ Personalize-able Poems (Spanish)
125,000+ First Name Meanings (English)
125,000+ First Name Meanings (Spanish)
700+ Popular Bible Verses
700+ Famous Quotations
30+ Prayers
Family Tree Gifts
200 Best Selling Art Backgrounds - 5 ea. of the top 40
200 Clear Art Bags - 8.5x11
1 PT Poetry Book (English) - An essential sales tool
Software Instructions & Documentation Pack
Phone Support & Training
Phone Order Line
Marketing Hints & Tips
Order Forms - Wholesale & Retail
Printed Retail Sign - 8.5x11 paper
Wholesale Supplier List
Free Updates - Within Same Release Level
** $2,000 Inventory Retail Value **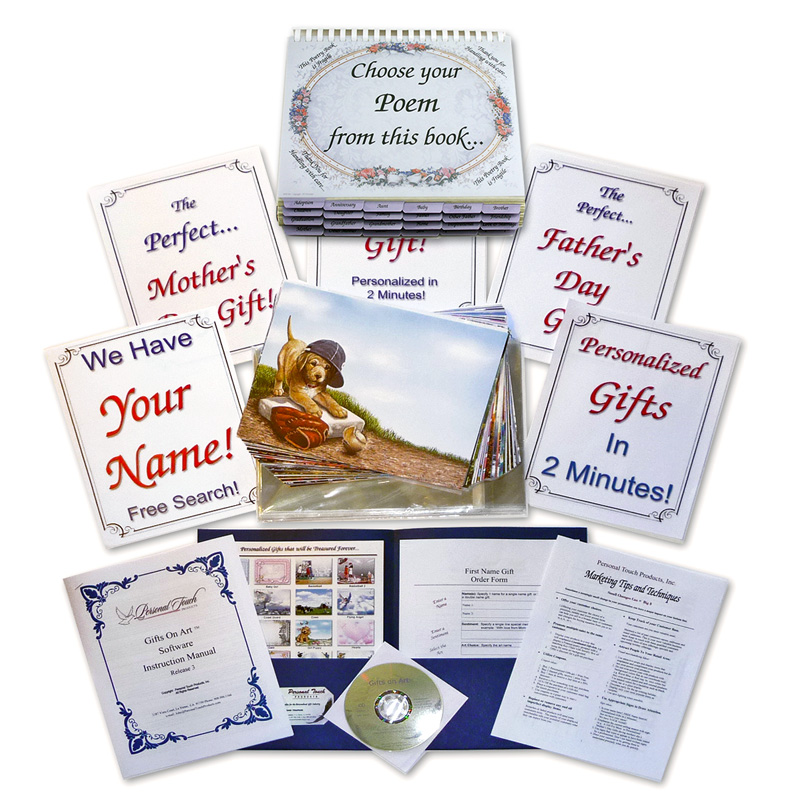 Notes:

The Silver start-up is great way to begin your personalized gift business and provides you with a sufficient variety of top selling art backgrounds to satisfy the vast majority of your customers. This package includes far more than enough art backgrounds to earn back 5 times your initial investment.

This kit includes 5 each of the top 40 selling art backgrounds (total 200).

You can reinvest your profits by adding items individually as your business grows, or upgrade to a higher start-up package when ready (one time only).

You can easily create your own art book using a 3 ring binder, sheet protectors and one of each art background. When you add more designs to your collection, you can easily insert them into your art book.
The "art book" and "Personal Touch Poetry Book" will prove to be invaluable sales tools for your customers to select their gift.

Can you choose the art backgrounds? Yes. By default, each start-up kit includes a pre-set number of top selling art backgrounds which is a proven way to get started but you can select your own art backgrounds if desired. In that case, you can provide us with a list of the art backgrounds and quantity of each in the Order Comment when checking-out with your purchase.
Additional Suggested Supplies:
11x14 Mats and Clear Mat Bags
Frames as your budget permits
Customer Reviews
Surpassed expectations... Review by Neal

I didn't have much money so I started out wit this kit along with some mats and frames. Excellent quality, excellent service. This is probably the best business I have tried. I have found a winner. With service like this, coupled with good pricing and phenomenal quality, you are guaranteed to make money. I have made sales within days of having this product.
(Posted on 6/27/16)

good excellant Review by Ursula

thank you for all your help
(Posted on 5/11/15)

Your software Review by Darilyn

I love my new software! Thanks for the great customer service. You guys are always there to help and that means a lot to me. Happy New Year!
(Posted on 1/5/15)
Write Your Own Review