DIAMOND Start-up Kit. Gifts on Art Software 400+ Personalize-able Poems 250,000+ First Name Meanings 700+ Popular Bible Verses 700+ Famous Quotations 30+ Prayers Family Tree & Family Gifts 600 Art Backgrounds 2 PT Poetry Book (sales tool) Frames, Mats, + much more! COAT OF ARMS Software ** Best Column Pricing **** $9,700+ Inventory Retail Value **
Price:

$1,495.00

- In stock
Details
200+ Personalize-able Poems (English)
200+ Personalize-able Poems (Spanish)
125,000+ First Name Meanings (English)
125,000+ First Name Meanings (Spanish)
700+ Popular Bible Verses
700+ Famous Quotations
30+ Prayers
Family Tree & Family Gifts
Specialty Fonts
2 PT Poetry Books - (English) - An Essential Sales Tool
1 PT Art Book Kit - Complete set of PT Art, Binder & Sheet protectors
600 Art Backgrounds - approx. 3 of each PT Art (Max 600)
100 Coat of Arms Art Backgrounds - 25 of Each: Parchment, Old Parchment, Heraldry & Heraldry 2
200 Clear Art Bags - 8.5x11
68 Double Mats - 2 of each Mat: 1-23, 30-35, 40-45 - (Quick-load design with backer pre-attached)
100 Clear Mat Bags - 11x14
1 case 8.5x11 Gold Ornate Frames - 10 ea.
1 case 11x14 Gold Ornate Frames- 10 ea.
Phone Support & Training
Phone-in Order Line
Order Forms, Art Brochures, Documentation
Marketing Hints & Tips
Printed Retail Sign - 8.5x11
Wholesale Supplier List
Free Updates - Within Same Release Level
Lifetime Best Column Pricing
** $9,700 Inventory Retail Value at MSRP **
PLEASE NOTE: This kit includes far more items than can possibly be depicted in a single photo.
See above list of contents for a complete list of items.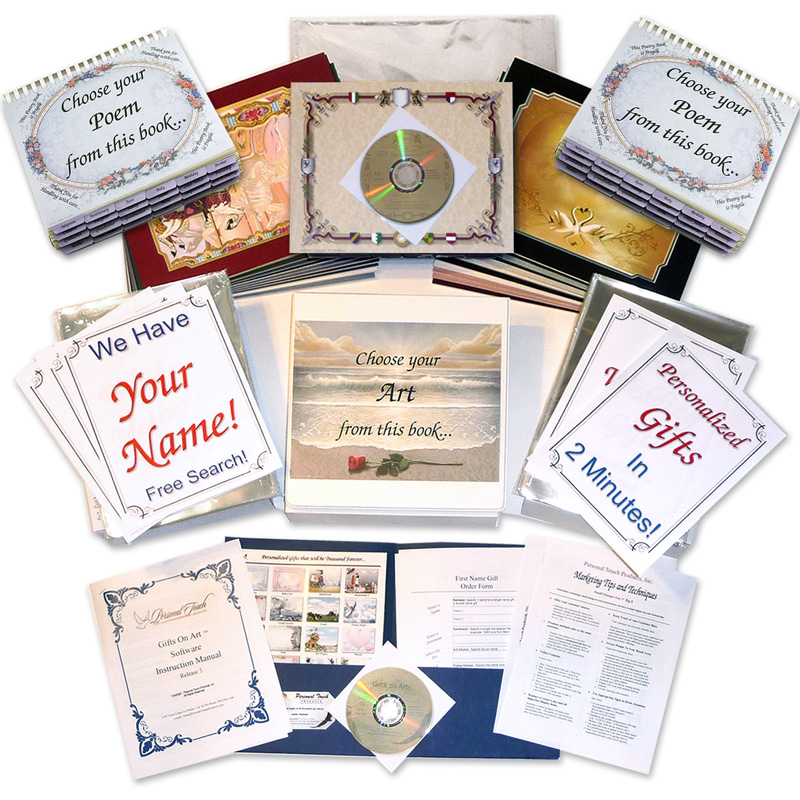 IMPORTANT NOTES: The Diamond start-up kit provides you with an unmatched value and an extreemly comprehensive set of tools and supplies to begin your personalized gift business. As a Diamond customer you will receive guaranteed "Lifetime Best Column" pricing when re-ordering art backgrounds regardless of quantity purchased. This will add up to significant saving for your business. The Diamond kit also includes the PT Coat of Arms software that will allow you create a variety of last name keepsakes. 100 COA/Heraldry art backgrounds, 660 PT art backgrounds are included as well as mats, frames and other supplies with a combined inventory retail value at MSRP of $9,700. Far more than enough supplies to earn back your investment many times over. The included PT Poetry Book and PT Art book will prove to be invaluable sales tools. This kit will provide you with everything you need to begin creating the most popular personalized gifts with a price range of $10 to $59.95.